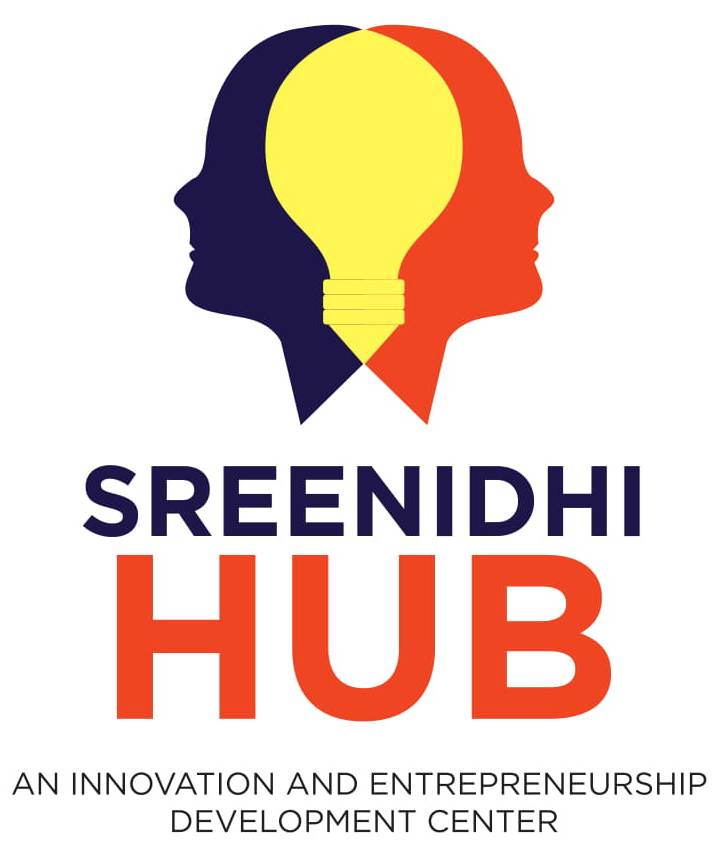 What is a Sreenidhi Hub ?
Sreenidhi Hub is established as the Incubation and Entrepreneurship Development center at Sreenidhi Institute of Science and Technology to nurture the creative spirit and enhance the leadership qualities of our students. The Sreenidhi's SNIST-Hub has been recognized as the Host Institute facility under the Development Commissioner – New Delhi Scheme to Support Entrepreneurship and Managerial Development of SMEs through Incubators. Under this scheme each approved student innovative idea is set to receive 6.25L of funding from the Directorate Commissioner – MSME for the startup. The area dedicated to Sreenidhi-Hub is around 5000 Sq.ft which comprises of 10 cubicles as office space for business
incubates, Tinkering/Sandbox lab Space, Technology Room, Director and Manager meeting room and training rooms for students. Advisory committee is formed comprising of eminent engineers from industry, scientists from research lab, senior manager of bank , Dean and Director from the host institute. The advisory committee is approved by Board of Governors of the institute.
With the above initiatives Sreenidhi-Hub is paying path to create successful entrepreneur with adequate support at the early stage of businesses to create immense value, and who provide constant access to high quality mentoring, vast networks and inputs on strategy as well as execution to our students.
About SNIST
SNIST believes in contributing to India's development through innovation and incubation that solves societal problems. Strong Academics, Industry relevant training, Emerging technology knowledge through R&D and Professional mindset with human approach are the essential attributes that determine the success of our institute. SNIST has 8 UG and PG programs with dedicated faculty and students that are involved extensively in research and product development activities. SNIST is recognized by DSIR, Govt. of India as Scientific and Industrial Research Organisation (SIRO) – 2009 to till date. SNIST management is highly cooperative in supporting and promoting in-house Academic Research activities. The institute provides funding for establishing and augmenting the state-of-the-art Infrastructure and Labs. Faculty and students are encouraged to file patents if the proposed idea has commercial viability.
SNIST management also works with reputed industries to forge alliance to offer consultancy and advance training programs in the emerging fields which necessitates the faculty to take up Advance Research problems. In addition to the above mentioned activities college conducts student innovative idea competition every semester that is evaluated by an external committee comprising of industry and research lab officers. The institute has entered into MoU with Wadhwani Foundation for Entrepreneurship Development. Under this agreement training is offered to faculty and certificates are issued to students for successfully completing course work in Entrepreneurship. The institute has also signed MoU with the TiE (The Indus Entrepreneurs – Hyderabad Chapter) to provide student mentorship, networking with top entrepreneurs and angel investors and training workshops.